Vacation rental homes are the perfect way to enjoy all the space and comforts of home while taking a much-needed break. Whether you're looking for an entire house, apartment, or condo – even just one room in someone's home – these private residences come equipped with spaces like kitchens, living areas, and multiple bedrooms which make them ideal for extended trips away!
Planning a vacation can be exciting, but it's easy to get overwhelmed by all of the choices. To help you make the most out of your search for that special home away from home and ensure you have a dreamy time on holiday, here are five top tips! Research thoroughly, consider carefully – then find that perfect rental that is sure to fit everyone's needs with ease. Great times await!
Checklist: What To Look For In a Vacation Rental Home
With so many amazing vacation rental homes out there, picking the one that's right for you can feel overwhelming! But no worries – if you consider your location and amenities needs plus budget when looking around, finding a home away from home is within reach. To help make sure you get the most out of your stay, here are some key elements to look at while choosing the perfect vacation rental home.
Planning your next getaway should be enjoyable! Deselecting properties can seem intimidating, so make sure to do a little homework. Check out reviews from past guests and compare prices between different options – you'll find something that fits perfectly with your budget without compromising on quality or amenities. Don't forget to read the listing in detail for any additional info like extra activities and surprise fees. Happy travels!
Want to get the most out of your vacation rental budget? Booking with an agency or broker house is a great way to access more varied options and take advantage of discounted rates. They can help ensure you have plenty of choices for where to stay, so start planning today!
When deciding on the perfect property, be sure to consider the location carefully. If you want an adventuresome getaway with friends or family that involves seeing all there is in a new city, then selecting something situated near attractions and public transportation can make it easier for everyone to enjoy as much of their trip as possible without dedicating too much time traveling!
Before you set off, make sure to settle on an accommodation budget. Vacation rentals can be fantastic – but they often require more financial commitment than a hotel stay would! Be smart with money and stick within your means while booking where you'll rest during the trip. Consider any additional costs such as cleaning fees or deposits before making a commitment so that there won't be a repercussion afterward when it comes time to pay up.
Finally, take some time during your stay in the vacation rental home to familiarize yourself with the area and check out nearby attractions or restaurants that may have been recommended by previous customers online – this way you'll get even more value out of your experience! Before making a commitment, it's important to factor in any other costs like cleaning fees or deposits that may come up after the fact. Being prepared makes sure you're never caught off guard when it comes time to pay!
Location: How to Choose the Ideal Vacation Rental Home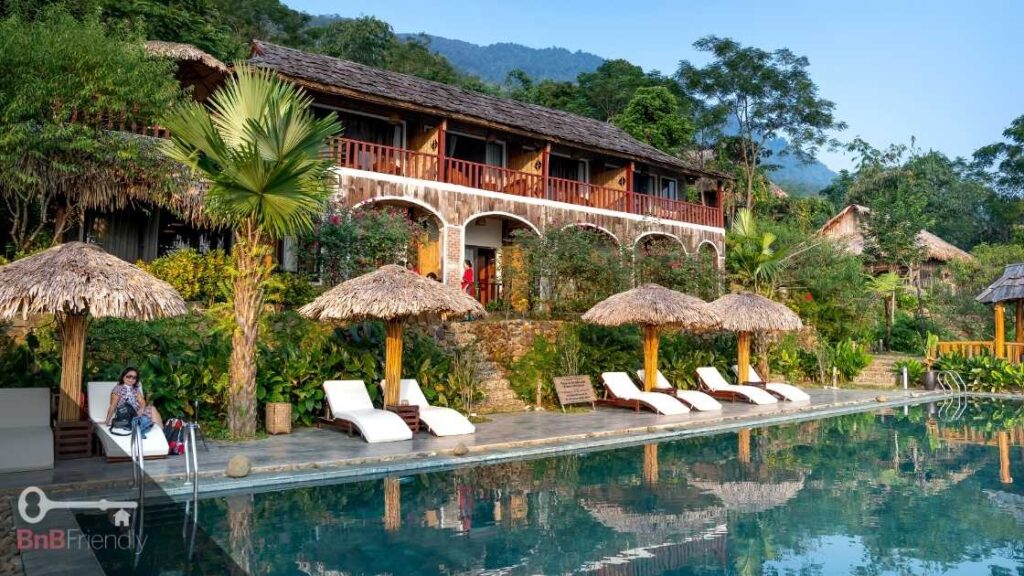 Taking a family getaway? Great choice! It can be hard to find the perfect vacation rental home for your crew, but with a little research and preparation, you'll locate something that checks all of your boxes. To help make sure your time away is nothing short of amazing, here are some key points to consider when selecting an unforgettable holiday haven:
Looking for the perfect accommodation to fit your vacation needs? Consider all of your options, from a cozy hotel room to an apartment with extra amenities. Each one offers something unique – think about location, price range, and extra features before committing! So take some time and pick what's best for you – it could be just around the beach corner or further away… Make sure that investment pays off.
When searching for the perfect place to call home, make sure you consider your needs and desires. Is being close to restaurants and parks a priority? How about quick access to public transportation or grocery stores? Reflect on what is important so that you can live in the best possible location! When looking for a home away from home, consider all the little details that help make your stay special – AC/heating to keep you comfy no matter what the weather brings; beautifully comfortable linens and towels; plus appliances within easy reach in your very own kitchen.
Have you ever wanted to find out what other travelers thought of a home before making the commitment? Now, it's easier than ever! Be sure to check reviews on rental websites for helpful insights from fellow guests and be one step closer to finding your ideal lodging.
Exploring the property for yourself is a great way to get an accurate understanding of what it has to offer – make sure you take advantage and check out the space in person! This can give you peace of mind that photos or phone conversations won't provide.
Double-check your rental contracts before you arrive – no one likes being surprised on vacation! Ensuring that everything is in order ahead of time will make for a much smoother and more enjoyable stay.
Before you go on your trip, it's important to do some research and double-check with local authorities! Knowing the safety issues of a location can make all the difference in having an enjoyable vacation.
Amenities: Everything You Need to Know
When it comes to planning a vacation, rental homes have so much more to offer than just a place for you and your family to rest their heads. Beyond breathtaking views and convenient locations, there may be amenities that can provide the comforts of home right where you're staying. Get up-to-speed with all things related to rental home amenities here!
Whether you're looking for a cozy home-away-from-home or just need some extra comforts when traveling, rental properties can provide all the essentials. From TVs and internet access to furniture and kitchen appliances – like refrigerators and stovetops – these rentals are loaded with amenities that'll make any stay stress free.
For those looking for an extra touch of luxury, there are rental properties that provide luxurious amenities such as hot tubs and swimming pools. Even better yet, some have outdoor entertaining spaces like decks or patios – perfect for hosting friends and family!
When traveling, it's important to know what your rental home has in store for you! Be sure to confirm with the owners if bed linens and towels are included when booking – no one wants surprises at check-in time.
To ensure your stay is as comfortable and relaxing as possible, make sure to bring essential items like linens or towels if the rental doesn't provide them – that way you don't need to worry about extra rentals!
On top of all the amenities offered, you won't have to worry about finding a laundry mat if your travels take an extended detour! Our on-site facilities are ready and waiting with convenient access for those longer stays.
Transform your rental into a home away from home by bringing those special items that make it feel like you never left! Board games for family game nights, cozy reads for quiet moments, and anything else in the kitchen to keep things cooking.
Get the most out of your getaway, by taking the time to figure out which accommodation fits your needs best. With a variety of options available featuring different amenities and comforts, you can be sure that all elements of an enjoyable vacation are taken care of!
Budget: Budgeting Tips For Picking Your Vacation Rental Home
Are you in search of the perfect vacation rental for your next family getaway? It can be a cost-effective alternative to hotels, but it's essential to plan ahead and budget accordingly so that you don't end up spending too much! Here are some handy tips on finding an amazing holiday home without breaking the bank:
Make sure your next vacation destination is perfect for the whole family by identifying which amenities are top priorities. Do you need reliable internet access or a cool escape from the summer heat? Maybe you're looking for some poolside fun and relaxation in an outdoor hot tub – whatever it may be, make sure to create a checklist of must-haves before deciding where to stay!
To get the best bang for your buck on a trip, make sure to compare prices and amenities in various areas. Doing research ahead of time could save you money – explore what each destination has to offer in terms of accommodations so that you can book the perfect spot within your budget!
Vacationing with several people? Make a savvy financial decision and rent out an entire house! Not only will it help you make the most of your trip, but can save money in the long run compared to renting just one room.
If you're looking for a great vacation destination, be sure to investigate if any of the properties are offering discounts like early bird specials or weekly/monthly deals! There's no reason not to take advantage and get more bang for your buck.
Gain insightful perspectives into the real value of each rental home before you commit. By reading reviews from previously satisfied guests, you can get a better idea of what's in store for your stay!
Make sure you save money on your getaway! Before booking a vacation rental, take the time to check out various websites and find the best deal – these savings could mean even more fun activities during your trip.
The Benefits That Come With Staying At a Vacation Rental Home
Vacation rental homes are the perfect way to elevate your next trip! Not only do they offer a level of comfort and convenience that you won't find in traditional hotel accommodations, but there are also plenty of other benefits. From balconies or terraces with stunning views to fully equipped kitchens, these cozy abodes give travelers all the amenities necessary to feel-good getaways.
For larger groups, stay in a space where everyone can enjoy their own personal touch of relaxation! Enjoy more living areas than ever before and make unforgettable memories with your family during your getaway.
Add some extra sparkle to your getaway! Rentals often offer a range of amenities, like swimming pools and hot tubs for luxurious relaxation. Plus, outdoor entertainment areas such as patios or decks may also be available so you can really revel in the fun times with friends and family.
With a vacation rental home, you can whip up your favorite recipes just like at home! No need to worry about unfamiliar kitchen appliances – all rentals come fully stocked with everything you need for effortless cooking. Bon appétit!
Looking to save a few extra bucks on your vacation? Consider renting instead of staying in a hotel! Not only could you slice back on cable and internet expenses, but some rentals even offer discounts based on how long you plan to stay.
Renting a property gives you the flexibility to explore without any burdensome commitments. Unlike staying in hotels, where you remain confined to one room for your stay, rentals allow you the freedom of movement and the opportunity to uncover new areas during your holiday with ease!
If you're looking for more privacy during your travels, renting a property is a perfect choice! Unlike staying in a hotel, there won't be any noisy neighbors to disturb your peace – day or night.
If you're searching for an exciting family vacation, it's time to consider renting out a dreamy getaway home! With plenty of amazing benefits and comforts that come with this accommodation choice, everyone will have the perfect escape.
End Notes
Looking for a getaway where you and your family can relax in the lap of luxury? Renting a vacation home is an excellent option that will take your next holiday to new heights! Enjoy all those creature comforts without having to worry about sacrificing style. Whether you're looking for extra room to stretch out, luxurious amenities like pools and hot tubs, or simply more privacy than what a hotel can provide – vacation rentals offer all this and so much more. Finding the perfect place to call home can be a daunting task, but with some careful research and budgeting, you could score special offers or discounts on your dream rental. Make sure to carefully consider all aspects so that you make an informed decision worthy of both your time and money.