Elevating Your Guests' Experience: The Art of Interior Design for Short-Term Rentals
As a savvy property owner or manager, you know that in the era of the sharing economy, short-term rentals such as Airbnb, Vrbo, and Booking.com are becoming increasingly popular among travelers of all ages and backgrounds. With the short-term rental industry booming and competition heating up, it's more important than ever to ensure that your property stands out from the crowded marketplace. One of the most crucial – and often overlooked – elements of creating a memorable and desirable short-term rental experience is the art of interior design.
In today's blog, we'll dive into the world of interior design for short-term rentals. We'll discuss how to infuse your property with style, character, and functionality that will leave a lasting impression on your guests, turning them into return customers and generating glowing reviews that will make your listing truly shine. So, whether you're an experienced property manager looking to up your game or a newbie looking to create a stunning space for your first rental, come join us as we explore the ins and outs of designing with your guests in mind, creating the ultimate home away from home that they will never forget.
1. The Importance of Interior Design in Short Term Rentals
The importance of interior design in short term rentals cannot be overstated, as it plays a significant role in attracting guests, generating positive reviews, and increasing revenue. According to a study by Beyond Pricing, investing in your rental's interior design can boost your revenue by 20% or more. This is achieved through listing attractiveness and guest satisfaction, ultimately leading to glowing reviews and higher occupancy rates compared to your competitors.
In today's competitive short term rental market, it is crucial for property owners to step up their game and create memorable, visually appealing spaces that cater to travelers' preferences and desires. A well-designed space not only resonates with the target audience but also entices potential guests to click on the listing, resulting in improved visibility on booking platforms.
Moreover, an excellent interior design can significantly enhance the guest experience, leaving a lasting impression and encouraging positive reviews. It is a proven fact that guests who are satisfied with the aesthetics of their temporary home are more likely to leave glowing reviews and recommend the property to others, ultimately driving up booking rates and pricing.
Incorporating local art, using a mix of antique and pre-loved pieces, and investing in quality bedding are just a few strategies to create an unforgettable stay that will leave your guests wanting more. Prioritizing interior design ensures that your short-term rental will stand out from the competition, allowing your business to thrive and maximize its return on investment.
2. Designing an Instagram-Worthy Space: How to Do It Right
Designing an Instagram-worthy space for your short-term rental is essential in today's digital age. With an ever-growing number of travelers looking to share their experiences on social media platforms, it is crucial to create an attractive and photo-ready environment that can catch their attention and entice them to book your property. By doing this right, not only will you enhance your guests' overall experience, but you can also significantly boost your bookings and generate higher revenues.
To create the perfect Instagram-worthy space, you should focus on three primary elements: aesthetics, functionality, and personality. Begin by choosing a visually appealing design theme that reflects your rental property's location and caters to the target demographic. From the choice of colors to the selection of furniture and accessories, ensure that you follow current design trends while maintaining a cohesive style throughout the property.
Next, focus on the functionality aspect. A well-designed space should be practical and comfortable for your guests, addressing their needs and wants. This includes providing sufficient storage space, comfortable seating areas, adequate lighting, and the appropriate number of amenities. Additionally, ensure that your rental property is clean, well-maintained, and clutter-free.
Finally, infuse some personality into your space by adding unique, personal touches that tell a story about your property, the location, or the host. Examples of this can include local artwork, quirky items, vintage furniture, or custom-made pieces. These elements can create a memorable and sharable experience for your guests, ultimately contributing to the success of your rental property.
When crafting the layout and design of your rental space, it's important to consider who will be staying there and what their needs are. For example, travelers may need different amenities than long-term tenants or vacationers. Make sure you offer the right features depending on your guests' preferences. Consider things like Wi-Fi, TV streaming services, kitchen appliances, and furniture.
3. Digital Design for Vacation Rentals: A Time-Saving Solution
Digital design for vacation rentals is an innovative and time-saving solution that is revolutionizing the industry. By leveraging the power of technology, interior designers can now create stunning virtual designs and layouts for short-term rental spaces without the need for in-person visits. This allows rental owners to visualize and approve design concepts more efficiently, saving both time and resources.
In today's fast-paced digital world, having an attractive online presence is essential for attracting and retaining guests. A well-designed and appealing rental space can create a lasting impression on potential guests and lead to increased bookings, positive reviews, and ultimately, higher returns on investment. With the help of digital design tools, rental owners can ensure that their property looks its best and stands out in the crowded marketplace.
One popular digital design tool is Sketch Up, which allows designers to create 3D models and renderings of interior spaces. This not only helps rental owners visualize the end result, but also allows them to easily make changes and try out different design options before committing to a specific style or layout. Moreover, using digital design tools can reduce the risk of costly mistakes, as potential issues can be identified and resolved before any physical work begins.
In addition to being a time-saving solution, digital design for vacation rentals is also a cost-effective option for rental owners. Many designers offer online consultations at a fraction of the cost of traditional in-person services, making it accessible to property owners on any budget. Additionally, by providing a detailed and accurate design plan, digital design can minimize the cost of materials, labor, and any surprise expenses. Finally, digital design can provide a unique to stand out among competitors by creating a space that will attract more renters.
4. In-Person Styling: Taking Your Rental to the Next Level
In the competitive world of short-term rentals, setting your property apart from the rest is crucial for success. In-person styling is a proven way to elevate your rental property to the next level, providing an inviting, comfortable, and visually appealing space for guests. With a keen eye for design and attention to detail, in-person styling can transform your short-term rental into an experience your guests will never forget.
The primary benefit of in-person styling is the ability to completely customize your space based on the unique needs and preferences of your target market. This means you can tailor your rental property's look and feel to delight the specific types of guests you aim to attract. In turn, this will help to boost your rental's desirability, making it more likely for guests to book your property and potentially resulting in more positive reviews and recommendations.
Working with an expert in-person stylist also means you can avoid costly mistakes often made by inexperienced property owners, such as selecting inappropriate furniture, clashing colors, or poor space planning. A seasoned professional will have the knowledge and experience to ensure your space is optimized for comfort, beauty, and practicality.
Moreover, in-person styling results in an increase in the perceived value of your rental property. By investing in professional styling, you signal to potential guests that they can expect a high-quality stay in a well-cared-for space. This perception of quality often translates into higher rental rates and increased occupancy, ultimately resulting in greater revenue generation for your business.
5. Interior Design Style Guide: Avoiding Costly Mistakes
When it comes to interior design for short-term rentals, a well-designed space can not only attract more guests but also generate increased revenue. However, there are a number of costly mistakes that property owners can make when undertaking such a project. To help navigate the process and create an appealing and functional rental space, consider the following tips for avoiding costly interior design mistakes.
Firstly, it is essential to base your design on your target audience. Understand local trends and the preferences of potential guests to create spaces that resonate with their tastes and needs. This will not only ensure a comfortable stay but also increase the chances of repeat bookings and positive reviews.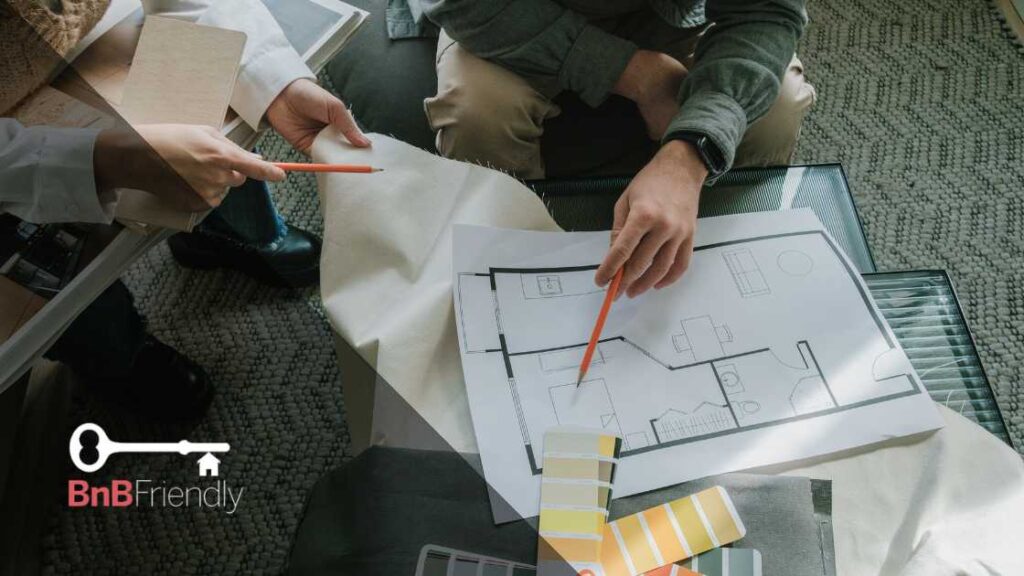 Secondly, be cautious about using overly trendy designs as these can easily become outdated. Instead, opt for timeless and versatile styling choices that can easily adapt to changing preferences or simply provide a canvas for updating accents in the future.
When selecting a color palette, lean towards neutral shades such as warm whites, pale blues, creams, greys, and sandy taupes. These colors offer durability in style while remaining versatile and appealing to a wide range of tastes.
Additionally, avoid over-accessorizing the space. While it may be tempting to include various eye-catching décor pieces, excessive accessorizing can lead to a cluttered environment that distracts from the property's genuine appeal. Instead, focus on selecting functional and aesthetically pleasing accessories that enhance the space without overwhelming it.
Ultimately, a well-designed short-term rental property should balance style and functionality while catering to the specific needs of its guests. By considering the above factors and taking a strategic approach to decoration and design, you can create an inviting space that will help you maximize rents and attract guests.
6. Setting Up Your Rental for Maximum Income Generation
Maximizing the income generation of a short term rental property entails much more than simply listing the space and letting the bookings roll in. A truly successful rental property focuses on creating an unforgettable experience for guests, which ultimately leads to a higher occupancy rate, glowing reviews, and increased profit. One of the most important aspects of offering a memorable stay is by investing time and effort into the interior design of the space.
A well-designed space not only sets the mood for an enjoyable stay but also caters to the target market's preferences and offers unique features that make the rental stand out from the competition. Great interior design also translates into better photographs for the property listing, which can be a major selling point and lead to more bookings. So, how can property owners ensure they are setting up their rental for maximum income generation?
First and foremost, it is crucial to define an overall interior design style for the space. Some popular styles to consider include Farmhouse, Modern, Rustic, Industrial, Traditional, or Boho. Owners should also consider their target market when selecting a design theme – for example, a beach house may benefit from a nautical-inspired theme, while a city apartment might benefit from a modern, minimalistic design.
Next, invest in quality furniture and accessories that not only look great but are also functional and durable, prioritizing comfort and convenience for guests. Finally, don't forget about the small details that can make a significant impact – things like plush towels, complimentary toiletries, and unique
7. Why decorations. With a bit of extra effort, owners can a Well-Designed Space is Crucial to Your Business.
When it comes to styling a short-term rental property, attention should be given to both aesthetics and functionality. Paying attention to smaller details will make all the difference in creating an inviting pealing and well-designed space is crucial to the success of your business. A well-designed space not only attracts more bookings but also allows you to charge higher rental fees, which translates to increased revenue.
Studies have shown that short-term rentals with intentional interior design can charge an average of 20% more than competitors who have not invested in good design. Furthermore, there are established relationships between interior design and the ability to capture higher average daily rates (ADR) and increased revenue per available room (RevPAR).
Modern travelers are becoming more design-savvy and are willing to pay a premium for aesthetically pleasing accommodations that they can share on social media. By offering a thoughtfully designed space that caters to these preferences, you can attract high-paying guests.
Additionally, as the short-term rental market becomes more saturated, it is essential to stand out from the competition. Offering an attractive, professionally designed space is one way to differentiate your property from the growing number of corporatized rentals. This, in turn, can help you become more competitive and achieve higher occupancy rates.
8. Defining Your Interior Design Style: A Beginner's Guide
Embarking on the journey of redecorating a short-term rental can be an exciting yet daunting experience. As a property owner, you want to create a welcoming and stylish atmosphere that appeals to a wide range of guests. Therefore, finding the perfect interior design style for your space is crucial for success. By following a beginner's guide to defining your interior design style, you can create a cohesive and visually appealing space that is sure to impress your guests and boost your bookings.
To begin, it's important to research various popular interior design styles, such as Farmhouse, Modern, Rustic, Industrial, Traditional, and Boho. Familiarize yourself with the key elements and aesthetics of each style by browsing the internet or flipping through home décor magazines. Collect inspiration through resources like Pinterest boards, which are filled with images of various design styles and ideas.
Once you have a solid understanding of the different design styles, consider your target market and the type of experience you want to create for your guests. Reflect on the nature of your short-term rental – is it a cozy cabin, a sleek city apartment, or a charming cottage? Analyzing the structure and location of your property can provide valuable insight into the most suitable design style.
9. Popular Interior Design Styles for Vacation Rentals
Vacation rentals can greatly benefit from having a well-defined interior design style that appeals to the modern traveler. A unique and welcoming space can make all the difference in customer satisfaction, leading to better reviews and ultimately, more bookings. Here are nine popular interior design styles that can be incorporated into your vacation rental property to create a memorable guest experience:
1. Farmhouse: A relaxed, cozy atmosphere featuring rustic wood elements, vintage accessories, and a warm, neutral color palette.
2. Modern: A clean and minimalist vibe with sleek lines, bold accents, and contemporary furnishings.
3. Rustic: A natural, inviting ambiance with a focus on organic materials, earthy tones, and textured surfaces.
4. Industrial: A raw, edgy appearance that includes exposed brick, metal accents, and utilitarian furniture.
5. Traditional: A timeless, elegant design style characterized by classic furniture, symmetrical arrangements, and rich color palettes.
6. Boho: A casual, eclectic look that incorporates a mix of patterns, textures, colors, and global influences.
7. Beachy: A coastal-inspired theme with soft pastels, effortless materials, and nautical accents.
8. Scandinavian: A blend of form and function, characterized by clean lines, muted colors, and an emphasis on natural light.
9. Mid-century modern: A retro-inspired style that combines playful shapes, bold color schemes, and distinctive furniture pieces.
7. Mix & Match: Combining Styles for a Unique Look
With the right style, your vacation rental will feel like a home away from homemaking a unique and memorable interior design for short-term rentals is essential in attracting guests and ensuring their stay is comfortable and enjoyable. One effective approach is to mix and match different design styles, incorporating elements from various time periods, cultures, and aesthetics. This eclectic design strategy can result in a charming and visually appealing space that stands apart from the competition.
Mixing and matching styles can showcase your rental's individuality and character, while also providing a talking point for guests. By blending unique pieces from around the world or a blend of modern and vintage items, your rental will transform into a fascinating and inviting haven that your guests will appreciate. Opting for an optimistic, light, and bright color palette can further enhance this atmosphere.
An essential aspect of successfully combining styles is to strike the perfect balance. It's crucial to avoid overwhelming the space with too many contrasting elements, which could lead to visual clutter and a lack of cohesion. Instead, create a harmonious atmosphere by carefully selecting pieces that complement each other and the room's overall layout and architecture.
To achieve this, start with a neutral foundation, such as the walls, floors, and large pieces of furniture. Then, layer in a variety of textures, patterns, and colors with smaller accessories such as cushions, throws, and artwork. This approach allows for a natural and cohesive flow throughout the space, while still incorporating exciting and eye-catching details.